Project Aim
The following objectives are addressed within the project:
Identification of adaptation needs and costs for public authorities in Austria at different governance levels (federal, provincial, municipal (province capitals to medium-sized cities))
Identification of budgetary significance of climate adaptation cost categories
Exploration of effects of different adaptation types: maintenance with additional recurrent costs versus one-time or recurrent investment
Exploration of adaptation cost dynamics over time
Estimation of macroeconomic effects of public adaptation as well as direct and indirect fiscal implications
Investigation of user information needs to support public decision making for adaptation
Development of robust adaptation paths (iterative adaptive management) based on economic analysis of adaptation options
Identification of synergies and potential trade-offs between public and private adaptation
Methodology
To answer these questions, PACINAS develops and provides a range of methods, tools, processes and data outputs to the respective user community. In particular, the following approaches and methodologies will be applied:
Combination of bottom-up approach (case studies for federal and sub-national decision makers) and top-down approach (macroeconomic assessment of budgetary effects of public adaptation)
Focus on both extreme events (especially flooding and mass movements) and on gradual changes (e.g. longer and more intensive heat waves)
Stakeholder involvement (of representatives of key Austrian ministries and departments at the province and municipal level) to elicit adaptation needs, strategies, and (budgetary) limitations
Structure
The project structure consists of a combination of methodological development and policy case studies as both may inform each other and contribute to more robust decision making in adaptation. WP1 serves as an overarching work package by developing the overall methodological framework of the project and by ensuring exchange between all project partners and the international experts. WP2 will contribute policy case studies on adaptation both on the federal and provincial as well as on the municipal level (cities of various sizes). The aim of the case study applications in WP2 is to identify well applied or expected adaption measures and to derive empirical estimates of adaptation costs and benefits. In these case studies, the 3 major governance levels in Austria will be investigated: the large scale – federal and provincial – level and the local, municipal governance level (i.e. large to medium sized cities). Key ministries as well as responsible departments from the provinces (Styria, Tyrol, Upper Austria) and cities will be drawn into the research. In WP3 the information gathered in WP2 will then be upscaled and assessed regarding its direct adaptation cost for entire Austria. In WP4 the indirect costs and benefits of adaptation (i.e. spillover costs to other sectors, effects on unemployment, growth etc.) will be assessed at the national scale. WP5 provides stakeholder involvement as well as outreach and dissemination throughout the project.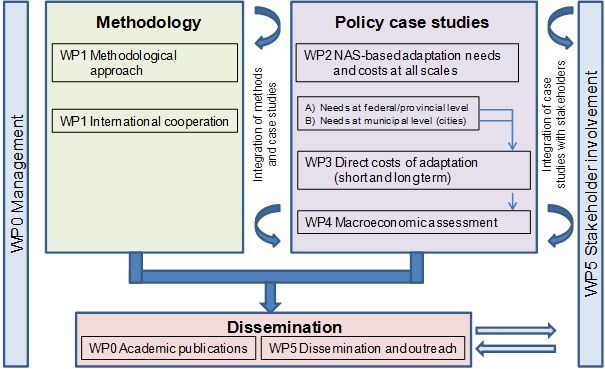 Figure 1: Pert diagram for the PACINAS project – project components and their interaction.